A tool for doing the heavy overview of how the admin area is secured is always useful to have. Admin Tools from Akeeba is one of these tools. With this Component, you will take the security up quite a few notches.
---
The Admin Tools is brought by the same developer that gives the Akeeba Backup Extension, which means that both are combined, but you can also use them separately. Admin Tools is an Open-Source Component for Joomla that gives you the best tools for securing your Joomla site.
Akeeba Admin Tools is a free extension that gives you control over the security for your Joomla site. Its power lies in checking the core files and keeping unauthorized access to the Backend of your Joomla Site. It has many advantages over other extensions giving some of its features.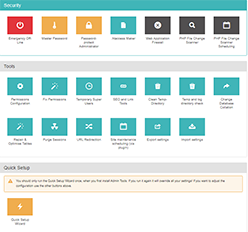 Main features
Maintain
You can clean the temporary folder with one click, Bad word filtering, Scheduled site maintenance operations, and much more.
Change permissions
Change the folder permissions to folders without the use of FTP or SSH
.htaccess maker
Create a safer administrator login by using this tool to generate .htaccess to this folder.
Easy redirection
You can create redirection for articles and other content easily with only filling out simple forms.
Site protection
The meaning of the Extension, here you can in one click "Close the site" for all traffic; this is very useful if you are experiencing a hack. You will be able to White-list or Black-list certain IP-addresses and block access from, i.e., spammers, unwanted Countries, and other safety measures.
Advantages
Free to use the Core version
Easy to setup
Great documentation
Fast support
DisAdvantages
A little complicated to use for the average user
Lack of some features in Core Version