Content will be of significant importance in 2024. Sometimes we often write the same code repeatedly, but with the Content templater Extension from Regular Labs, you can import a template just by clicking a button.
We all know that it is a nightmare to write things over and over again. There is, however, a way to have a content template for your content. You can paste it in for each article you write, but what if you need access to the code or the predefined layout for the article? - This is where you need a tool to handle the template.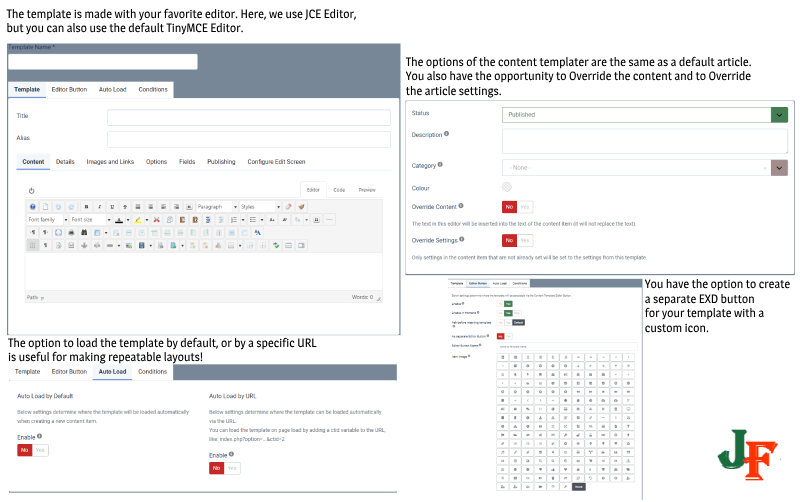 Collage over Regular Labs - Content Templater
The extension is available in both a free version and an affordable paid version which includes extra features.
The extension Content Templater from Regular Labs is only a tool that pushes a prefined layout into an article with the push of a button. The predefined layouts are stored under the Component menu. The structure is easy to understand and works like creating the content from scratch.
To use your predefined templates in an article, click on the Joomla etd menu or find it at the bottom of the editor, all based on what Editor you are using, Why use TinyMCE? - Here is 3 alternative Editors for Joomla.
The Component's functionality is basically that the Content you put in by clicking the button replaces the article's content with your predefined content.
The Documentation from Regular Labs is quite informative and easy to understand. Though the usage for the Extension is quite self-explanatory, it is always good to know that it's easy to read Documentation.
Peter van Westen (the owner of the Regular Labs website) and his team respond reasonably quickly to support requests through a public forum. Having a public forum on the site often gives advantages to customers for returning questions and answers.
Conclusion
All in all the Content Templater extension from Regular Labs gives you an easy way to customize your articles.
More information about Regular Labs
Regular Labs is a company that creates and offers extensions for the Joomla content management system (CMS). They have been in business since 2008 and have a wide range of extensions that can be used to extend Joomla's functionality and make repetitive tasks easier and faster.
Some of their most popular extensions include:
Advanced Module Manager - This extension allows you to easily manage your modules, including their position, visibility, and settings.
Modules Anywhere - This extension allows you to place modules anywhere on your Joomla site, including in custom areas that are not ordinarily accessible to modules.
Sourcerer Sourcerer - This extension lets you easily import and export Joomla content, including articles, menus, and categories.
Regular Labs extensions are known for being high-quality, well-supported, and easy to use. They are also very affordable, with most extensions starting at just $15.
If you use Joomla, I highly recommend checking out Regular Labs extensions. They can save you a lot of time and hassle and help you make your Joomla site look and function how you want it to.
Here are some additional information about Regular Labs:
Their website is https://regularlabs.com/
They have a team of 10 developers and support staff
They have over 1 million downloads of their extensions
They are certified Joomla! partner
Source Google Bard 2023
All Regular Labs extensions:
If you use Regular Labs' Extensions, you may have noticed the way that the extensions interact with each other. This is good for consistency. Regular Labs and Peter van Westen have, over the years, in an ingenious way, mastered the genius way that its Components/Plugins work together.
Extension list:
Add to Menu (Only Joomla 3), Advanced Module Manager, Advanced Template Manager (Only Joomla 3), Articles Anywhere, Article Field, Better Frontend Link (Only Joomla 4 & 5), Better Preview (Only Joomla 3), Better Trash (Only Joomla 3), Cache Cleaner, CDN for Joomla, Components Anywhere (Only Joomla 3), Conditional Content, Content Templater, DB Replacer, Dumy Content (Only Joomla 3), Email Protector, GeoIP, IP Login, Keyboard Shortcuts, Modals, Modules Anywhere, Quick Index, ReReplacer, Simple User Notes (Only Joomla 3), Sliders (Only Joomla 3), Snippets, Sourcerer, Tabs (Only Joomla 3), Tabs & Accordions (Only Joomla 4 & 5), Tooltips (Only Joomla 4 & 5), and "What? Nothing!", see the complete list here!
All is managed through its extension Regular Labs - Extension Manager.

- LET ME KNOW IF YOU KNOW ANY OTHER WAYS TO DO THIS IN THE COMMENTS BELOW -