Using the Modal from Regular Labs gives you the opportunity to extend your content, image, video, or an external link into a popup that displays it.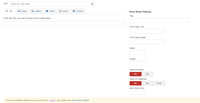 The word Modal implies "relating to mode or form as opposed to substance", and this is actually what it does. The Extension Modal from Regular Labs is useful for displaying pop-up content on your page. We use it for our articles, to display information about the author.
Some of Modals features
Image modal
If you have an image that is large, you can use this extension to popup a larger image of the displayed _thumbmail. This is very useful when dealing with large images with high contrast, you can then easily connect the image to a modal and have the user click for a larger version (See the image on right).
Popup external links
This feature is handy if you have links to external sites, but don't want the reader to leave your site. (You cannot open non-SSL (http) urls inside a SSL (https) website, nor can you open SSL (https) urls inside a non-SSL (http) website).
Create an image gallery
With Modal, you can easily insert a image gallery.
Link content directly
If you don't want to create an article for your content, you can simply create it on the fly
Articles
If you in the other hand has created an article, and want to display it in a popup, you can do so
Display Videos
You can easily include videos from sites like YouTube, Vimeo, and others in a popup window when the reader clicks a link.
Auto-load
The Auto-load can be used for popups when someone enters a page. (Auto Popups are annoying, and not recommendable)
Advantages
Free (Basic functions)
Easy to use
Have great documentation
DisAdvantages
Only have support for URLs in the Free version
More information about Regular Labs
If you use Regular Labs' Extensions, you may have noticed the way that the extensions interact with each other. This is good for consistency, Regular Labs has with an ingenious way mastered the genius way that its Components/Plugins work together. Some of their extensions are Modals, Articles Anywhere, Add to Menu, Advanced Module Manager, Article FIelds, Beter Preview, Better Trash, Cache Cleaner, Advanced Template Manager, Components Anywhere, Content Templater, DB Replacer, ReReplacer, Content Templater, Dummy Content, Conditional Content, Modules Anywhere, Snippets, Sliders, Tabs, Sourcerer, + even more, see the full list here!
All is managed through its own extension Regular Labs - Extension Manager
- LET ME KNOW IF YOU KNOW ANY OTHER WAYS TO DO THIS IN THE COMMENTS BELOW -